Topless Waitress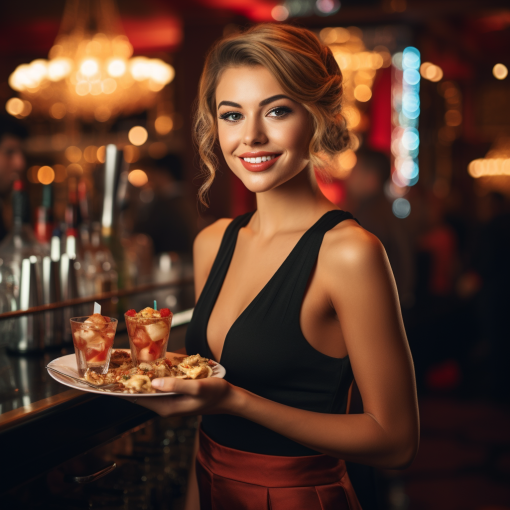 Topless Servers, Female Bartenders and Waitresses
At Lorem Servo, we specialize in offering topless bartenders and servers for hire in Las Vegas, Nevada, who are exceptionally attractive and physically appealing. Our employees are not your typical wait staff; a large number of them are professional models with the training and experience necessary to be excellent servers and waitresses.
Serving and bartending staff make a big difference in the success of any event by going above and beyond to make guests feel comfortable and to provide them food and drinks.
We are pleased to provide a wide range of appealing female bartenders who can expertly serve beverages while sporting swimsuit bottoms, bringing a distinctive touch to any event, in addition to our normal services.
In addition, we have a variety of female servers for dinner service that can wear in standard dress clothes or even more daring ensembles that are customized to fit the unique theme of your special event.
What is a Topless Waitress
Our servers and bartenders are skillful, physically fit, and extremely appealing. Bikini and topless female waitresses are among the staff options we provide. All your erotic needs in one convenient location. We have the sexiest crew to make any event memorable and enjoyable, whether you're arranging a bachelor party or poolside hijinks.
Envision being able to host an exciting, seductive event in Las Vegas with gorgeous, enthusiastic, and talented models. Help with your next large-scale Vegas celebration is always available from our crew.
Management of Sexy Servers and Bartenders
Beauties in Las Vegas, Summerlin, Henderson, Green Valley North, The Lakes, Peccole Ranch, Tule Springs, Southern Highlands, Seven Hills, Arts District, Lake Las Vegas, Macdonald Highlands, Anthem, Rhodes Ranch, Highland Hills, Macdonald Ranch, and surrounding areas are welcome to use our party services. Enjoy perusing our stunning glamour, trade show, private party, and atmosphere models in Las Vegas.
For hiring entertainers and servers for your upcoming party or event, Lorem Servo is the ideal choice. With a range of attractive, professional, and fun female talents who are eager to serve at your next party, we have the sexiest bartenders and servers for you. If you want your next event to stand out, think about hiring the top talent in Sin City. Our servers can bring you food or make you drinks on demand, and our bartenders can make any kind of drink you can think of. If you're looking for some sensual go-go dancing with live band accompaniment, or if our stunning exotic dancers are shaking things up for everyone's amusement, you won't be let down! Don't wait to get in touch with us for any of the upcoming big occasions.
In the neon glow of Las Vegas' night, Where hopes and dreams take their flight, There's a topless waitress who weaves through the city of lights, A guardian angel in the city's endless nights. She wears her apron with passion and pride, In her eyes, the desert's secrets hide, She serves with a smile, warm and wide, In this Las Vegas city where dreams and vices collide. Her name is whispered in hushed tones, In Sin City where glitz and glamour are sown, A diamond in the rough, a warm heart...
Introduction Las Vegas is known for its opulent parties and vibrant nightlife, particularly on New Year's Eve. In order to make their celebrations special, event hosts and party planners are always looking for creative methods to bring people together from all over the world to celebrate. Using a topless waitress to serve guests at celebrations is one such method. Although this concept could cause some controversy, it has several special benefits that can make any celebration better. The...